---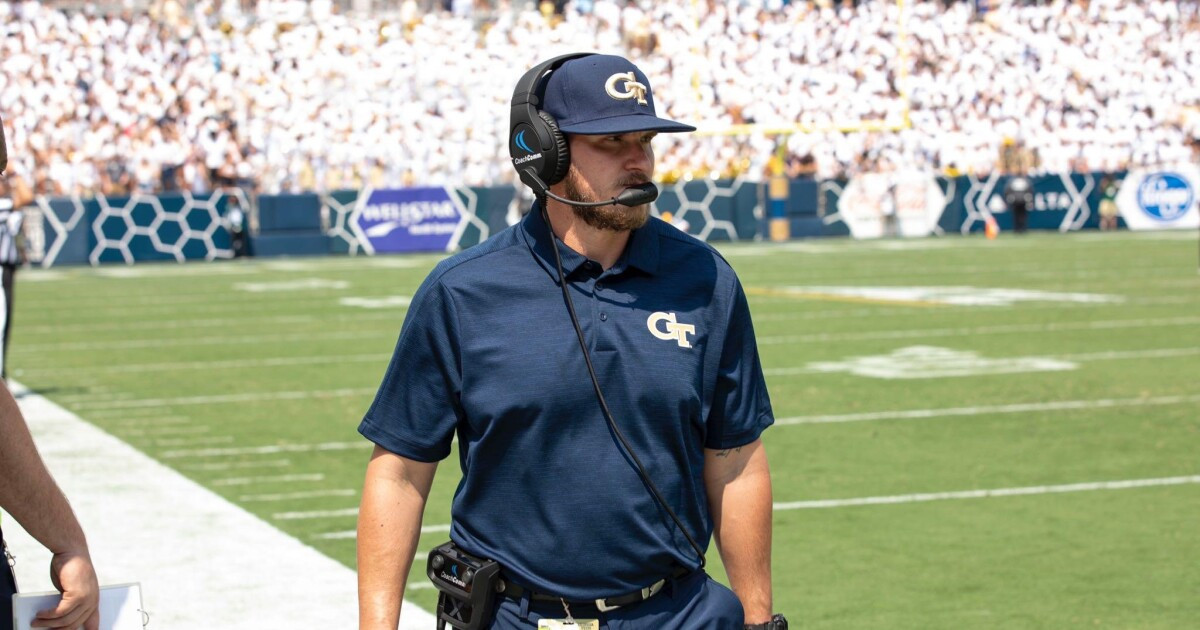 Inside the chart
Unique background: The upbringing that makes new special teams coordinator Jason Semore different from nearly every Division I football coach.
You have already read this story.
Kid grows up the son of a small town coach. Follows his father into the business. Climbs the coaching ranks, establishing his own success.
It does not Jason Semore all different from the scores of other coaches' sons that populate the college football staff. After playing for his dad in high school and then writing in college, Semore has spent the past 17 years hopscoping from Division II to FCS to FBS, coast to coast, from smalltime coordinator school to Power-5 analyst and now, finally, linebacker coach at Georgia Tech. On Monday, he was promoted to special teams coordinator for the Yellow Jackets, a role he also held in 2015 at the University of Montana.
But Semore's background makes him unlike any coach's son at the Division I level. Maybe any Division I coach, period. And the answer innocently lies at the top of his biography.
Hometown: Ganado, Arizona.
It is information that is easy to ignore, or to skim over, or to remain indifferent. Every coach and player has it listed on their roster page.
Semore's hometown is a bit of a misnomer. Ganado (population 905), in the northeast corner of Arizona, is technically not a city. It is a chapter of the Navajo Nation.
Semore spent his entire childhood on a reservation, in a place that is 93% Native American according to the 2020 census, immersed in a culture that few if any of his coaching peers have ever experienced.
"It was unique in that you're in an environment where almost everyone is different from you," he said.
Ganado is all Semore has known. His grandparents moved there in the early 1970s as part of a Bureau of Indian Affairs program that placed teachers in reserve schools in exchange for paying off their student debts. They lived and worked in Ganado for several years before returning to their native Oklahoma. Semore's father, Russ, moved his family there after leaving the Air Force shortly after the birth of Jason and his twin brother, Chris, to become an assistant high school football coach.
"Booking is very different. They are very small towns scattered over a huge area. There are nearly a million Navajo, and all of them live on this huge, sprawling reservation, the largest reservation in the world," Semore explained.
At an elevation of 6,385 feet, Ganado is in the rural and rugged Four Corners region of the United States. His Navajo name, Lók'aahnteel, translates to "Patch of Wide Reeds". Cattle and sheep ranches stretch along Highway 191 west. Rabbitbrush, pinons, junipers and prickly pears freckle the red clay hills. Copper-colored mesas and escarpments loom in the distance, giving the area a sense of vast, ancient beauty. Hogans, the low ceremonial dwellings built with wood and packed mud, can still be found around Ganado, often standing next to the usual family houses.
"These are high desert plains. It's really unique in that it's not quite Utah sandstone, but it's more vegetation than high desert," Semore explained.
He knows the stereotypes of communities like his. Ganado is rustic, but it's not dark or forgotten. It has its challenges, but it is not crippled by the problems that plague so many small reserve communities. Window Rock, the capital of the Navajo Nation, is 25 miles to the east and has banks, grocery stores, and fast food chains, and Ganado has a regional hospital and an airport. The Hubbell Trading Post is a National Historic Site that attracts visitors from across the Southwest. Ganado bills itself as one of the most agriculturally progressive places in the Navajo Nation, and the area is renowned for its Navajo rug making. When Semore and his family lived there, the high school had nearly 1,000 students from across the county.
Jason Semore helped lead Valdosta State to the 2021 NCAA Division II National Championship Game as defensive coordinator before returning to Tech as linebackers coach in 2022. This week he was promoted to special teams coordinator.
It's a proud, active and tight-knit community, though Semore admits being away from the reservation has had an effect on him.
"There are no big cities. Every town has a gas station, maybe a McDonald's or something. There was no McDonald's in Ganado. There's just not much to do in terms of social life or activities or having a job as a teenager," Semore said.
The isolation had an advantage, however.
"For me it was an opportunity to really invest in athletics, because you really don't have any other [social] choice," he said.
Semore poured his energies into football, baseball, and the track at Ganado High, where his father served as head football coach. On offense, Jason played running back while his twin brother played quarterback; on defense, he earned first-team all-state honors at linebacker. Together they led the Ganado Hornets to four conference championships in the late 1990s.
Semore has fond memories of community support for their games, even though their nearest opponent was 45 minutes away by bus.
"On the reservation, everyone sort of knows that basketball is king. The basketball arenas rival the Power Five basketball arenas. But there was a great crowd. If you live on the reserve and nearest [big] town is Albuquerque, NM, three hours away, there's not much of a social scene," Semore said.
He and his brother enjoyed the notoriety that came with being local sports stars. But their recognition of Ganado stemmed from other reasons as well – the fact that he and his family were not native Navajo.
Still, he insists he never felt embarrassed about it. His family had lived in Ganado for most of the past 30 years. As part of his high school education, he had to take a course in Navajo studies where he learned traditional tribal skills like weaving papooses and slaughtering sheep. Navajo culture was everywhere, but Semore never felt out of place. He speaks fondly of the friendliness and strong family environment in Ganado.
"The community is really tight-knit," he said. "It's like stepping back in time when you go back. People really like you as a person and the relationships are close. It's a cool place.
Semore explained that many Navajos share the same surname, even though they are not blood relatives. Their surnames refer more to their clan.
"It's almost as if everyone around me might as well have asked me what my clan was. It was a really cool experience," Semore said.
After graduating from high school in 2000, Semore continued his playing career at Division II Adams State in Alamosa, Colorado. When his trainers praised him for "living in the weight room," he couldn't help but laugh. He never thought twice about all the time he spent lifting weights at Ganado. What else was there to do?
"When I got to college and left the reserve, I really believed that I had a different view of what I was doing with my time," Semore said.
By the time he graduated from Adams State, his father had taken a head coaching job at a high school two hours south of Ganado, near the New Mexico border. Semore served as defensive coordinator. The following year, he scored his first college gig, as a secondary Division II coach at the Colorado School of Mines.
Semore has remained in the collegiate ranks ever since, working meticulously through a variety of defensive roles. He returned to Adams State to serve as co-defensive coordinator in 2007, the first of four defensive coordinator positions he has held over the years. He met Tech defensive coordinator Andrew Thacker while a defensive assistant at Oklahoma State in 2012, which eventually connected him with the Georgia Tech staff.
Getting established in coaching is a question of performance, but it's also a question of networking. Even with a coaching father, Semore knows his background — growing up on a reserve, Division II football — didn't lend itself to the ready-made relationships of other aspiring college coaches. But he says his experiences at Ganado, growing up among the Navajo, taught him to feel at home in other cultures. And that, in turn, helped him thrive in coaching.
"Being able to build relationships came naturally to me, and it was important to me, and it got me to where I am today," Semore said.
It's an experience he wouldn't trade either. This Saturday, when Georgia Tech takes on Pittsburgh (8 p.m. ET, Legends Sports' Georgia Tech Sports Network), Ganado's coach's son will pursue the next chapter of his career, charting a course few college footballers have duplicated.
---
---
---